Support a New Relational Database Management System
Source:
vignettes/customize_support_new_rdbms.Rmd
customize_support_new_rdbms.Rmd
Overview
ReviewR manages database connections with the help of the DBI and dbplyr packages from RStudio. Leveraging these packages, ReviewR is able to operate on remote databases as if they are local, in-memory data frames. R code written with dplyr verbs are automatically translated to SQL by the dbplyr package and sent to the connected database. The translation to the connected database is handled by a DBI connection object, which references a database driver. A full list of dplyr compatible database back-ends can be found here.
Database Modules
ReviewR facilitates these DBI connections through the use of Shiny Modules. Modules can make complex Shiny applications more manageable. They compartmentalize code and are developed for a specific purpose.
At their core, modules monitor user inputs that are defined in a User Interface (UI) function, process these inputs in a server function, and return an output. Each module operates in its own namespace, meaning that Shiny modules are portable and can be used in other applications or reused within the same application.
In ReviewR, this concept is used to create "database modules." Each patient database back-end will have different connection requirements, meaning a new UI is needed to collect the required connection information from the user. By modularizing this connection code, ReviewR can support multiple databases so long as a correctly formatted DBI connection object is returned to the ReviewR application. Thus "database modules" are Shiny modules that are responsible for collecting appropriate database credentials (IP address, port, etc.) and returning a DBI connection object.
ReviewR dynamically switches between developed database modules with its own database setup module. This setup module allows users to interactively switch between database modules that have been developed. When selected, each individual module's UI will be presented to guide the user through establishing a database connection.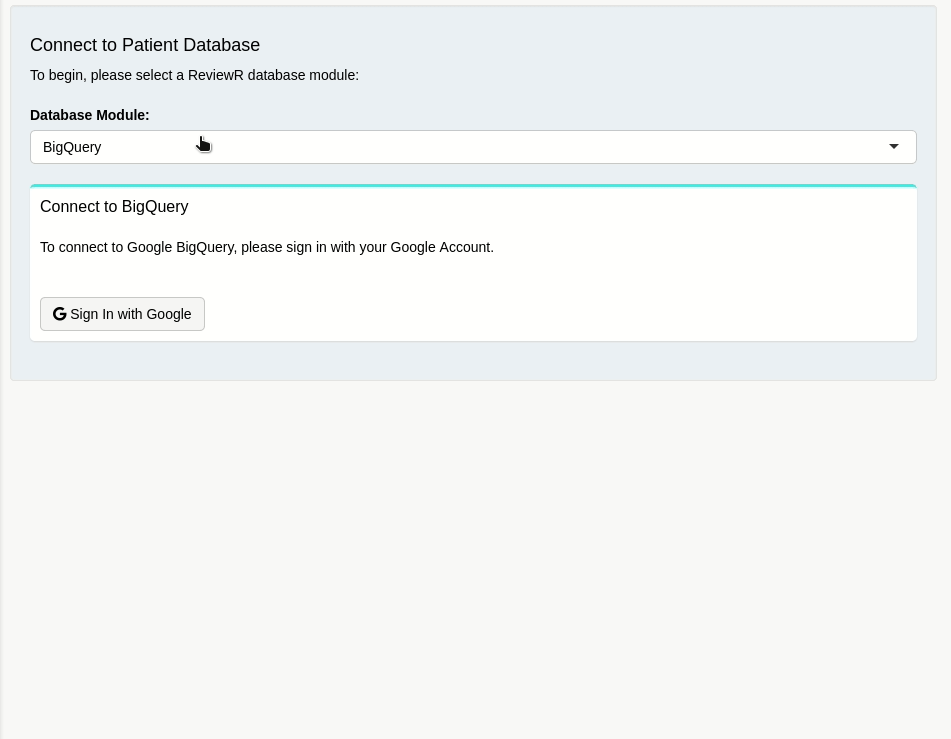 Users can extend the functionality of ReviewR by adding developed database modules to the "Database Module Setup" code chunk within R/mod_database_setup.R as shown below:



# Database Module Setup ----


      

namespace

 

<-

 

'db-selector-ns'


      

# ~~~~~~~~~~~~~~~~~~~~~~~~~~~~~~~~~~~ Add Database Setup Modules Here!!! ~~~~~~~~~~~~~~~~~~~~~~~~~~~~~~~~~~~ #


      

## Add Database Setup Modules Here


      

database_setup_vars

 

<-

 

reactiveValues

(

bigquery 

=

 bigquery_setup_server

(

id 

=

 

namespace

 

)

,
                                            postgresql 

=

 postgresql_setup_server

(

id 

=

 

namespace

 

)

 

#,


                                            

# new_module = new_module_setup_server(id = namespace)


                                            

)


      

# ~~~~~~~~~~~~~~~~~~~~~~~~~~~~~~~~~~~~~~~~~~~~~~~~~~~~~~~~~~~~~~~~~~~~~~~~~~~~~~~~~~~~~~~~~~~~~~~~~~~~~~~~~~ #
Once modules are added to the database setup, they will appear in the Patient Database Module drop down on the setup tab.
Read on to learn how to develop a database module for ReviewR!
Developing a Database Module for ReviewR
Creating a Shiny module is very similar to developing a stand alone Shiny Application. When developing a database module for ReviewR, there are a few differences that result because of its package architecture. A template has been provided so that some aspects of ReviewR database module development can be highlighted in the sections that follow.
If you are familiar with Shiny modules and want to begin developing right away, you may skip ahead to the Start Developing Section of this guide.